DXair RRS (Reduced Refrigerant Systems) Series
All of the DXair systems built today are part of our RRS series. These pool dehumidifiers (LV/EC/MC Series; the SS Series can also utilize secondary coolant technology) are liquid cooled packaged dehumidification systems that are factory charged and sealed, eliminating onsite refrigeration work. The refrigeration circuit uses glycol and water as a heat rejection transfer fluid to an outdoor fluid cooler or cooling tower. Our efforts to reduce refrigerant and become environmentally responsible offers key advantages.
These are true green machines and use approximately 80% less refrigerant the conventional DX systems with outdoor remote condensers. There is practically no limit to the distance the outdoor remote fluid cooler can be located from the building, non-invasive, no breaking into refrigeration lines to service, and is used in "Green" or Leed Certified applications. Copper piping is not required; water grade plastic/PVC is appropriate. Our fluid cooler/dry cooler applications use the least amount of refrigerant in any packaged dehumidification system.
Find out more about RSS Secondary Coolant Technology…
Max-Evap Option
We do not compromise your air flow delivery system!
This option is exclusive and standard on all DXair pool dehumidification systems. With Max-Evap, all DXair moisture removing capacities are maximized regardless of entering dry bulb or wet bulb temperature while maintaining 100% of the systems air flow to the space.
See our Max-Evap bulletin for more information…
DXair G-60 Galvanized Pool Dehumidification Products
DXair builds a complete line of pool dehumidifiers for a variety of commercial natatoriums, residential indoor pools, hotels, resorts, physical therapy/rehab, schools, YMCA'™s, athletic facilities and more. These systems provide standard as well as many new innovative features and advantages in each system.
A variety of dehumidifier configurations are offered based on your natatorium design. The LV/EC/MC Series are built in the USA, in R410A, in an ISO Rated Facility. These units are ETL Intertek Listed (conforms to UL1995 standards), CAN/CSA Certified. Platforms available: air cooled, water cooled, building loop, cooling tower and no cooling.
Get Extra Protection with the Bronze Glow Option
Our galvanized units with Bronze Glow technology have successfully passed 12,000 hour salt spray testing! Most companies do not achieve 10,000 hours on this test. All galvanized units are available with this option in which we Bronze Glow coat the evaporator and hot gas reheat coils, the interior blower cabinetry, and outer unit—greatly increasing the unit's resistance to the hostile conditions of an indoor pool environment and/or salt air.
LV Series – This series is our standard ½-6 Ton Single Compressor "Quiet Package" pool dehumidifiers in vertical, horizontal and counter flow options.
Get LV Series catalog and specifications…
EC Series – This series is our standard 6-30 Ton Dual Compressor "Quiet Package" pool dehumidifiers in vertical, horizontal and counter flow options. This series has additional options for take apart construction and larger blower packages to accommodate higher cfm for larger natatoriums.
Get EC Series catalog and specifications…
MC Series – This series is our standard 30-60 Ton Modular "Quiet Package" pool dehumidifier units built in a "low" or "high" design. Configurations vary, and custom options vary with take apart construction, larger blower packages. The MC Series comes standard with Bronze Glow Coated option.
Get MC Series catalog and specifications…
DXair SS (Stainless Steel) Series
This series is currently built in 2-20 tons in a High Grade 304 Stainless Steel Cabinetry with all internal air coils Electro-Fin Coated. The pool water condenser for pool heating/heat recovery is built into the unit. These are single compressor units in R410A, and ETL Listed. The geothermal pool dehumidification systems feature the only NON-REVERSING Heat/Cool/Dehumidification system with 100% hot gas reheat and pool heat recovery in one very compact packaged unit.
This very unique and innovative line has eliminated a major problem that has plagued the industry for decades. The packaged heat reclaim dehumidification unit comes standard with compressor, evaporator, 100% hot gas reheat condenser, liquid to refrigerant shell and tube condenser/evaporator, Max-Evap option and air handler.
Platforms available: Air cooled (using fluid cooler or outdoor dx condenser), water cooled, cooling tower, building loop and specifically built as a geothermal open or closed loop pool dehumidifier.
Get SS Series catalog and specifications…
What is included in the price?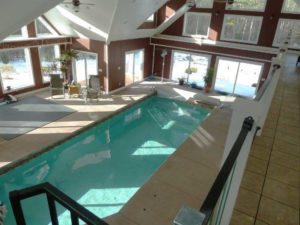 A complete packaged heat recovery pool dehumidification system is included in our pricing. As a manufacturer our "engineering" includes includes our dehumidifier sized according to the building loads (sensible calculations/heat loss and heat gain in BTU's) you provide, the heating of the space based upon your choice of electric, gas, propane, hot water coil or geothermal, assistance with sizing, design and layout of your duct work/air delivery system for our system. We will size each system based on all loads provided, the air turnover rate required, supply air and return air CFM.
We will also design for heat recovery/pool heat reclaim if this option can be used. We will provide guidelines for building materials, mechanical space, insulation, windows, lighting, vapor barriers, outside air, and negative pressure. We will provide information regarding the materials used for your air delivery system. We recommend each customer research all of the resources available to them in the design stages for the building, design stages for the dehumidification system and utilizing ASHRAE HVAC Applications Manuals, ASHRAE Manuals for all building requirements, ACCA Manauls, SPS Manuals and the dehumidification manufacturer's recommendations.
DXair is not a licensed mechanical engineering firm, not an architectural firm and is not licensed for mechanical installations. Therefore, DXair does not provide nor calculate any building loads (heat loss/heat gain/sensible calculations) for the space. This is the responsibility of the customer/end user, mechanical engineering firm, builder, or architectural firm. All proposals will be considered estimates only without the engineering calculations and the pool room data required.
This web site information, content, and guidelines are subject to change without notice.