Why is a dehumidification system necessary to control humidity in an indoor pool/natatorium?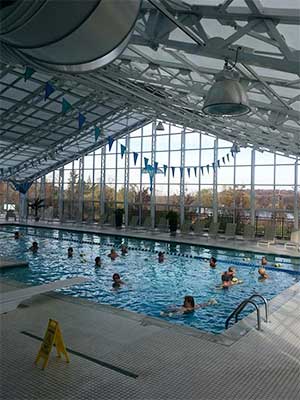 Indoor pools and spas, due to the nature of containing a large body of water, have a much higher humidity level than any other area of commercial or residential buildings. This is due to evaporation of the pool water at set design temperatures and levels of humidity within the space. Dehumidification is designed first and foremost to prevent condensation within the space. As the moisture reaches a 100% humidity saturation level within the pool room, humidity and moisture—if not controlled—will deteriorate the building and is destructive to dry wall, wood, metal, insulation, windows, doors, skylights, interior structural members, and equipment. Additionally, this can foster an uncomfortable and unhealthy environment for all by creating mold and mildew issues.
A properly designed indoor pool dehumidification system that includes the dehumidifier, a source to heat your space, and cooling, will control the environment and prevent the early deterioration of the structure by reducing the pool room humidity levels to the standards required by ASHRAE (50-60% RH). While dehumidifying the indoor pool room environment, the system will also provide the necessary heating, cooling and additional free heat resources to the natatorium.
How can I tell if the moisture level is excessive?
The signs include an uncomfortable space, the presence of mold, corrosion, rust, wet and/or saturated drywall, ceilings caving in, and windows dripping to name a few.
Why can't I just open my doors and windows let air in and use some exhaust fans?
One traditional approach to dealing with all this humid air is to simply open all the doors and windows in the pool room and let Mother Nature dehumidify with drier outdoor air. This passive approach might work on the days when the outdoor air is at the same temperature as that in the pool room and with a lower relative humidity but these conditions rarely exist. So you get the same results as indicated below, with the added unpleasant high cost of pool heating; because the pool heat energy is literally "thrown out the window."
The second "method" is to install what is called a "waste ventilation system" (see Waste Ventilation Design Guideline for additional information) with exhaust fans to remove the humid air and install make up air units to bring in fresh air; and either heat or cool it to the desired temperature. This "conditioned" air is then circulated around the pool area in hopes that it will be dry enough to absorb the excess moisture and be vented out thru exhaust fans. These types of waste ventilation systems were in play over 30 years; they didn't work then and will not work today.
Operating costs of these waste ventilation systems are the highest of any available alternative. They cannot work when the outdoor air has the same or higher relative humidity (RH) and moisture content than the indoor air, and the outdoor air temperature is not at the same as the indoor pool 365 days/year. Both must be the exact same temperature with the same amount of humidity 365 days/per year (an impossibility). With this type of system, you do not recover the heat from the system and reject that "free" heat back to pool water to help keep it up to temperature (called pool heat recovery). Typically there may not be the proper ductwork because this may be sized according to a cooling unit (tonnage) and not dehumidification system.
The first most important factor of any system is to ensure no condensation forms anywhere within the structure and maintain the environment at the design conditions for the space to prevent deterioration of the structure. You cannot prevent condensation in any structure without true dehumidification and the proper air delivery/ductwork system sized for the environment.
The answer is also clearly demonstrated in the appalling image of a "health club" of all places. By relying on an exhaust fan/waste ventilation system instead of proper dehumidification, you can see both the structural deterioration and mold and mildew accumulation in this pool room which forced it to be shut down. This of course was caused by excessive humidity.
What type of projects do you build systems for?
DXair builds systems for residential, commercial, hotels/hospitality properties, club houses, schools, rehab/therapy , swim schools, diving schools, community centers, elderly communities and resorts, athletic facilities, diving schools, canine swimming schools, veterinarian therapy pools, spa rooms, mikvahs and more. All of the principles remain the same for each project. They will vary by voltages required.
How many types of systems do you build?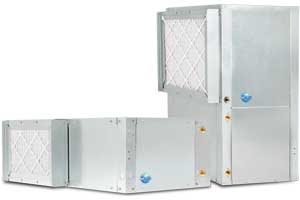 DXair builds what is called packaged pool heat recovery systems. We offer a variety of equipment from 2-60 tons. Our LV Series is 1-6 tons in vertical, horizontal or counterflow configurations. Our EC Series is our 6-25 ton dual compressor units, with vertical or horizontal configurations, and the MC Series is our 30-60 ton modular units for larger commercial applications. These units go to 10 tons on single phase.
The secondary line is our Stainless Steel (SS Series) product line in vertical units only. These units go to 9 tons in single phase. Take Apart Construction (TAC) is also available.
What do these systems cost?
System costs are determined by the size of the unit and the options you choose.
What is included in the price?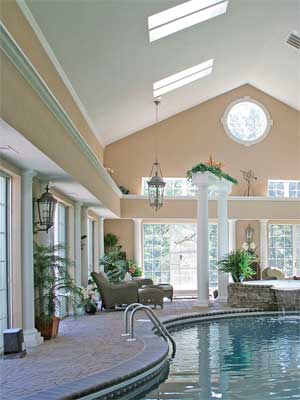 A complete packaged heat recovery pool dehumidification system is included in our pricing. As a manufacturer our "engineering" includes includes our dehumidifier sized according to the building loads (sensible calculations/heat loss and heat gain in BTU's) you provide, the heating of the space based upon your choice of electric, gas, propane, hot water coil or geothermal, assistance with sizing, design and layout of your duct work/air delivery system for our system. We will size each system based on all loads provided, the air turnover rate required, supply air and return air CFM.
We will also design for heat recovery/pool heat reclaim if this option can be used. We will provide guidelines for building materials, mechanical space, insulation, windows, lighting, vapor barriers, outside air, and negative pressure. We will provide information regarding the materials used for your air delivery system. We recommend each customer research all of the resources available to them in the design stages for the building, design stages for the dehumidification system and utilizing ASHRAE HVAC Applications Manuals, ASHRAE Manuals for all building requirements, ACCA Manuals, SPS Manuals and the dehumidification manufacturer's recommendations.
DXair is not a licensed mechanical engineering firm, not an architectural firm and is not licensed for mechanical installations. Therefore, DXair does not provide nor calculate any building loads (heat loss/heat gain/sensible calculations) for the space. This is the responsibility of the customer/end user, mechanical engineering firm, builder, or architectural firm. All proposals will be considered estimates only without the engineering calculations and the pool room data required.
Does DXair install these systems?
DXair is the manufacturer of these systems. We are not licensed builder/engineering firm, or mechanical installation contractor. A licensed mechanical contractor will handle the installation of the system. DXair will provide all specifications and information to your contractor. DXair does have a large network of local reps you may wish to contact.
How does a pool room dehumidification system work?
There are generally four components to all dehumidification systems:
The dehumidifier
The heat source for the space (electric duct heater, gas/propane duct furnace, hot water coil)
The outdoor cooling unit for cooling
The ductwork or the air delivery system dedicated to the pool room
All dehumidification systems are installed and attached to a forced air system of ductwork that is designed for your pool room based on system sizing, air flow/air turnover rates, outside air, and negative pressure.
A forced air system of ductwork (much like your home furnace system), is installed, but unlike your home or office, this ductwork is recommended to be installed in one continuous loop around the pool room. Duct work can be installed overhead or underground depending upon your design. The register, or diffusers as they are called in a natatorium, are then strategically installed to ensure that a flow of warm air is moved across any surfaces that are prone to condensation (i.e. glass, windows, sliding doors, skylights). You will have a supply air duct and a return air duct (like your home).
The dehumidification process begins by pulling warm moist air into the return air (duct) grill and into the dehumidifier. This air is passed over cold evaporator coils which pulls the moisture from this air and cools it at the same time. The moisture goes to a condensate drain in the dehumidification cycle. The air then passes through what is called a hot gas reheat HGR coil in the unit. This HGR is designed to begin reheating the air that has just been dehumidified.
The air passed through the HGR coil then goes through the supply air. Once the air moves into the supply air duct, the thermostat used with the system will indicate if this air needs to be heated secondarily so that it is returned at the heat setting for the pool room. In the supply air duct is the secondary component. That component will now come into play if the air still requires a few more degrees of heat. It will heat that air to match the pool room temperature setting (set at the stat).
EXAMPLE: A pool at 82° water temp and 84° room temp, cooling temperature should be set to 86° and relative humidity (RH) should be 50-60%. If the room warms up past your set point, the cooling will automatically begin at the setting of 86 degrees.
For more information, including a diagram of the process, check out this Pool/Spa Humidity Control article…
How do you size the pool dehumidification for my project?
Like an HVAC system for your home or office, certain information will be required that will help provide us with the best approach to your indoor pool room project. No two projects or designs are the same, although the principles are the same. Some of the information for new construction that will be required is:
The total square feet of the pool room
Air temperature to be maintained
The total square feet of the pool surface area and the temperature of water to be maintained
The total square feet of the spa/hot tub area and the temperature of water to be maintained
The ceiling height of the space (average and actual)
Any other water features that will create evaporation
Type of structure and what it will be used for: (commercial, residential, rehab/therapy, etc.
New or existing structure
Pool chemistry (chlorine/bromine/salt, etc.)
The construction of the building (glass and frame, standard construction, concrete block etc.)
How the room will be heated (gas/propane/electric/hot water coil tied to boiler/geothermal open or closed loop)
Will cooling be used?
The building loads (these loads are generally handled by a mechanical contractor/mechanical engineering firm)
The building loads on the above list consist of the total heat loss for the space in BTU's and total heat gain (for cooling side) in BTU's. DXair is a manufacturer, we are not a licensed mechanical engineering firm and we do not provide the total loads. The final loads will allow us to size the heating peripheral for the room, and what size the condenser/fluid cooler will need to be.
Remember, southern and northern climates are very different. Where northern climates require more heating, southern climates will have a much higher cooling load, and these climate based calculations are important to the overall sizing of the unit.
How do you determine what I need?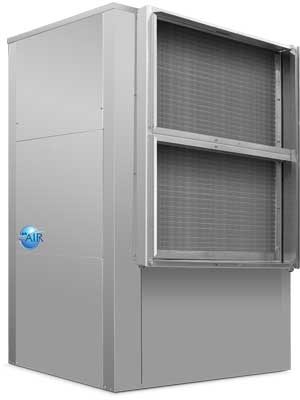 We take the size of the total square feet of the pool room and with the ceiling height, we determine the air flow requirements or CFM for your supply air. This allows us to size the blower for your dehumidification system. With these calculations, we will provide the outside air requirements (brining in outside air per ASHRAE Guidelines) and we will also size a negative pressure fan for the space based on these calculations.
We take the size of the pool and/or spa (and other water features if included), and calculate the evaporation rate of the water based on your design temperatures you want to maintain. Once the evaporation rate is calculated – this equates to the "tonnage" and compressor size for the dehumidifier to ensure that it can dehumidify your space. You now have the tonnage and CFM as the first part of the equation for dehumidification.
With your building loads and your specific construction, we determine what size your auxiliary space heating needs to be in BTU's to ensure we meet the heat loss of the space at your coldest climate times. We determine what your cooling loads are based on warmest climate times and use these loads to ensure we size the cooling unit properly for your project.
These will cover your complete dehumidification system: heating and cooling of the space to control your specific environment.
What size is my ductwork and where do I put the ductwork?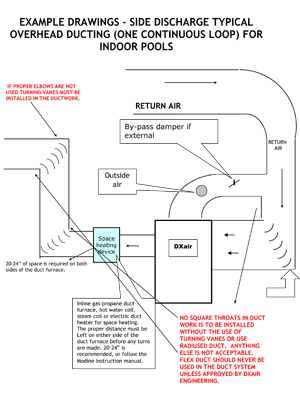 Ductwork is sized for the proper supply air CFM and return air CFM. This is accomplished by taking your total square feet and ceiling height and with a series of calculations determining the air turnover rate and CFM needed for this ductwork. We utilize ACCA Manuals, SPS Manuals and ASHRAE Manuals as our guidelines for our design.
Your duct working can be installed over head or underground. If it is underground duct it will be PCD (coated) to protect against the earth's natural moisture and it will be installed at a slight pitch back towards a floor drain.
Your return air would be at the highest point in the room.
If overhead ducting, this duct can be galvanized metal painted, or aluminum. ASHRAE does not recommend stainless steel ductwork in a pool room due to corrosion factors. Fabric duct can be used but greater consideration must be used with fabric ductwork due to sagging and "cinching" issues in the duct.
Return air with overhead ducting is located more towards the floor level.
Return and supply air is not installed at the same level to prevent short circuiting of your air flow.
Can I use fabric ductwork in my pool room?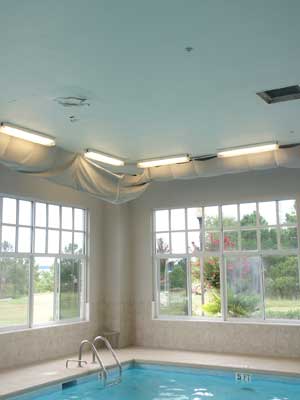 Yes, however, we generally do not recommend fabric duct in larger pool rooms due to air flow issues. Fabric is porous, therefore you lose some air velocity because it is fabric. Metal duct is sized with certain parameters and fabric ductwork must be sized by the fabric duct manufacturer and it must meet the total CFM requirements.
In general, we've seen the fabric duct "cinched", pinched at corners and/or sagging, creating serious issues with air flow in a pool room. Do your homework and ensure that if you use fabric duct, that it is done properly as DXair will take no responsibility for this type of ductwork and/or poor air flow within the structure. Galvanized metal painted or aluminum ductwork is more often used in these structures. Underground PCD can be used if going underground ducting.
What if I have a very high ceiling and the windows are installed lower to the floor?
Your mechanical engineer/contractor etc. will work with DXair to determine the best approach to ductwork. Many times there are vaulted ceilings from 12-30 ft. in pool rooms. Ceiling areas are the first place for stratification to occur in a pool room. If ductwork cannot reach the ceiling areas, or cannot reach skylights that may be installed in these areas, then ceiling fans installed BLOWING UPWARD and strategically placed to move air flow will be the alternative to ductwork in that area.
What if the building has no windows, do I still need the ductwork and registers/diffusers?
Yes, ductwork is required whether you have glass surface areas in the structure or if it is four conditioned walls. You must have ductwork to move air flow in the space at the proper air turnovers to dehumidify, and to heat the space and cool it if you chose cooling. So yes, the dehumidifier is the heart of the system, but without arteries (ductwork) the system is rendered useless and ineffective.
Can we build a pool room that is part of the home or office and that can be kept open to these spaces?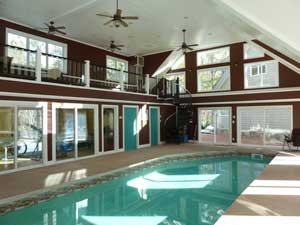 Pool rooms must be maintained separately from any other living or office/work space. Most codes do not permit mixing these two environments due to humidity, moisture and chemicals that should not be permitted to enter these areas that are not protected from the effects of these high humidity envelopes. You do not use the same vapor barriers or negative pressure as required in a pool room. The pool room does not share the HVAC system or ductwork with any other part of the building or home. We recommend that all areas not related to the indoor pool be kept closed and maintained separately.
Generally the rooms are enclosed by glass or walls away from other areas of the home or office. For example, you will not go into an LA FITNESS and find exercise equipment or offices inside the pool room. Same for your home… We want to protect those areas that are not maintained at the same temps or humidity levels and do not share spaces with chemicals.
Can I use a smaller system if I use a pool cover? Won't that save costs of equipment?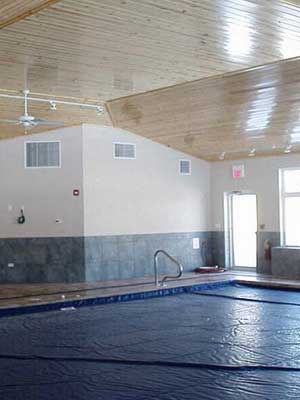 There is misconception in our industry that if you maintain a pool cover, that a system can be a smaller size. Keep in mind, you have chosen your water and your air temperatures and how the natatorium will be used (residential, commercial with a number of people, etc.). A cover provides the following benefits:
Covering the pool stops evaporation of water; hence the dehumidifier does not have to run to control the humidity in the space and reduces your cost of operation
Covering the pool keeps heat in the pool and it reduces your cost of pool heating
Pool chemicals evaporate with an open pool so a cover reduces the chemical replacement costs
When pool covers can be used they provide additional safety for small children and pets
Downsizing a unit means that when the cover comes off, you still have the same water and air temperatures your design was based on…but you are using a smaller system to try and do the job. Therefore downsizing a system may now not cover that load any longer. If that is case, the unit can continue to run at a higher cost and still not properly condition the space.
Can the unit provide all of my pool heating?
No, these units are not designed to provide the total pool water heating requirements for an indoor pool. All of our units provide what is called HEAT RECOVERY or POOL HEAT RECLAIM, which means when these systems are running, there is excess heat generated. Via our design, we reject that heat back to the space and to pool water to help maintain these temperatures. Once those are satisfied, the excess heat is rejected to your outdoor cooling unit.
Talk to your pool company regarding the purchase of a properly sized pool heater. This will always be your primary source of pool heat.
Other manufacturers may offer 100% pool heating; however we have chosen not to do so as our experience has shown that this feature shortens the life span of compressors (as they must carry the load to heat a pool). If a compressor or component is "down" and needs to be serviced or replaced, the customer now has no pool heating and the pool is losing heat during this time. A pool heater is much more efficient and at much less cost.
Other areas of concern are pool heat being lost to high water tables, ground voids, and un-insulated pool shells. Years ago we built units with this option, but hands on experience has taught us that the pool heat recovery feature is the better choice and we discontinued the 100% pool heating many years ago.
Can we use the pool water to heat the space?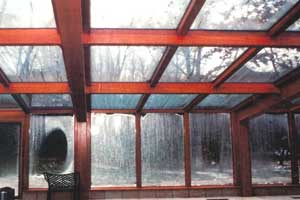 There are many companies that design and build swimming pool enclosures who tell clients that they do not need a dehumidification system and the heat from the pool will heat the room. There is nothing further from the truth!
Heating up an indoor pool outside of the normal range of temperatures creates increased moisture, evaporation and humidity levels when water is warmer than air. This eventually leads to deterioration and is uncomfortable in any room. Dehumidification may not be sized to handle the increased loads and this potentially leads to higher operating costs, building deterioration, damage, rust, corrosion, mold and mildew within the structure. Turning up the heat of pool water to provide heat to your space is never recommended.
Do we have to use cooling?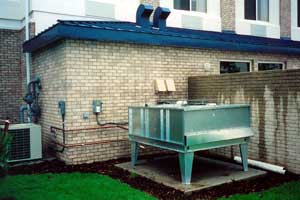 Cooling is always optional with every system, however it can be determined by your building loads, the type of structure you build, insulation, how much glass is involved, your geographics (southern vs. northern climates), etc. Generally speaking, cooling may be needed. Cooling is at the discretion of each customer, but an informed choice based on your situation is recommended. Most commercial projects will use cooling, residential projects will vary with that option.
Can we install this system outside? Or do we need a mechanical space dedicated for this system?
DXair does not build any rooftop or outside pool dehumidifiers. All of our systems are built with the smallest footprint available to be placed inside a small mechanical room. This is much less than the cost of outdoor equipment, the equipment is more easily and reliably maintained, and provides for a longer life span when not subjected to weather conditions. Your outdoor cooling unit for cooling will be installed outside at ground level or above the DXair unit.
Who installs the system?
A licensed mechanical contracting firm will install the system and ductwork and the peripherals. They may subcontract the plumbing and/or electrical out to other companies they work with that are licensed to handle these areas. Generally the contractor will do most of the work. No owner/homeowner is permitted to install these systems due to the laws governing refrigeration based equipment. We require a mechanical contractor, licensing information, and the contractor also signs off on the start-up and commissioning for warranty to begin. We may be able to refer an existing contractor we have used or the client may need to research local contractors who understand pool dehumidification systems.
How long will this system last?
Some of our oldest systems are more than 20 years old. The average life span of a DXair dehumidifier, if the proper maintenance and preventive maintenance is accomplished, pool chemistry is maintained properly (extremely important!), is 15-20+ years.
What is the maintenance on these units and who performs it?
For the property owner simple maintenance is required: CLEAN YOUR FILTERS and/or change them out! Dirty Filters means you are restricting the air flow coming into the return air and the dehumidifier can't do its job. Check the unit once a week to see if there are any leaks, drips, or any red lights on the unit indicating a potential problem. Keep your condensate line and drains/traps free of dirt and debris. Check your drain pan and ensure it is free from dirt and debris.
Anything else you will call your service contractor. Do not turn off valves or controls at any time. A preventive maintenance/maintenance check schedule should be set up for every 6 months to maintain your warranty and all records maintained for warranty documentation.
What water and air temperature and humidity settings should I use?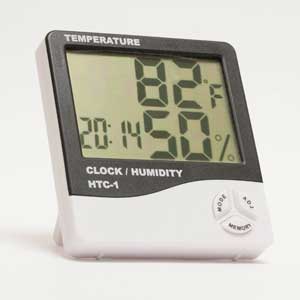 ASHRAE Manuals provided a number of alternatives for water and air depending upon the use of the facility. Generally somewhere between 80° and 84° water is pretty standard in our industry. Once the water temperature is set, the air MUST be maintained 2° above your air temperature when NO POOL COVER is used. Maximum air temperature is 86° for comfort levels and heating costs per ASHRAE. DXair will discuss the specifics of your project with you to help determine the best settings for your needs.
For humidity, ASHRAE recommends 50-60% relative humidity (RH) to maintain the integrity of the structure and comfort for patrons.
What if I want hotter water and I want it cooler in the room?
All clients can choose their settings. Many physical therapy and rehab facilities, diving schools, baby swim/teaching schools can have water anywhere from 84° to 92° and their air temperatures at 78° to 84°. For these types of pools, the units must be upsized to a larger system to cover the evaporation rate. It is imperative to know exactly where air and water will be maintained for each customer so that we provide the correctly designed system.
Can I change the temperatures in the room?
Many customers believe they can fluctuate the temperatures up and down depending upon how they want to use the space. This is not recommended because going up in temps may mean your system was not sized for the increased loads, and the unit may run extensively and not keep up. This does more harm than good and it can wreak havoc in a pool room that you are working to maintain to prevent condensation and moisture.
If you provide a range of temperatures you may want to maintain, we will design with the highest temperatures in mind first and allow the customer to make the final decision. The higher the water and the warmer the air, the more costs of operation.
I have radiant floor heating for my pool room. Do I need to add any other heat source to the space?
Radiant floor heating heats objects, not air. There is not enough BTU's in radiant floor to meet the total heating loads of the building. Secondarily, we cannot take that heat and put into the duct system to move warm air across any surfaces that can condensate to prevent condensation, nor provide even distribution of air throughout the space. Therefore a secondary or auxiliary source of heating is required.
Can we install this in our attic or crawl space?
DXair does not recommend these types of installations. If it is a retrofit installation there may not be any other alternative. Generally, these spaces are not conducive to being conditioned spaces, cannot meet the specs for clearances required for equipment, nor can the equipment be checked on a regular basis. These spaces have a degree of difficulty for mechanical contractors to install ductwork, plumbing/piping and the heating equipment. If equipment needs to be replaced it can be difficult as well. Any space used must be a conditioned space.
Are there special requirements or building materials we need to use?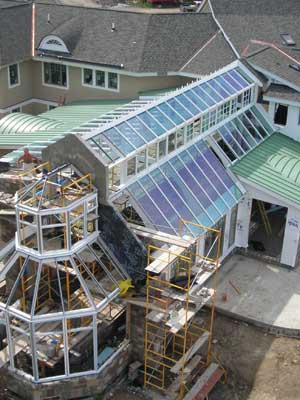 There will be a few items that are required that are not used in your home or office; these are:
Vapor Barriers are required per ASHRAE HVAC Applications Manuals-Natatoriums 2019 in all pool rooms. This has two options:
Polyethylene sheeting – (8, 10 or 12 mil.) over your insulation and just before you put your finished surfaces on (walls and ceilings that share the pool or warm side of the pool room). This barrier protects water from penetrating your structure materials and prevents this moisture from moving into the interior part of the structure where it will deteriorate the building materials.
Vapor Barrier or a Vapor Retardant Paint – If existing structure, vapor barrier paint is typically used. You will want to choose the paint that is applicable to the particular building materials you have in place. This may require contacting specialty paint stores.
Negative Pressure Fan for the pool room. This small fan, sized by DXair, once installed, will prevent moisture migration into the structure and will also prevent the pool room environment from travelling into homes/offices or other areas not related to pool room.
Note that Vapor Barriers and Negative Pressure fans are mandated by ASHRAE for all natatoriums.
The rest of the building materials are standard to any home build or office build. Drywall, stucco, wood, etc. can be used in any natatorium. Any number of windows, sliding glass doors, skylights can be used in any natatorium.
Glass note – All windows should be double pane low E glass; single pane glass cannot be used in pool room environments because due to the low insulative quality, these windows will condense when warm meets cold.
Lighting note – top hat recessed can lights are not recommended as this type of lighting "punches" holes in your vapor barrier. This defeats the purpose of your barrier and holes can allow moisture migration. We recommend surface mounting all lighting.
What if I have an existing building and do not have dehumidification in place?
With existing buildings and no system in place, we will review what is in place that you use to condition the room. Photos are always helpful of existing pool rooms. We will review any ductwork that may be in place or determine where ductwork can now be installed and that we can move air flow to glass areas and prevent stratification in the building. We will review mechanical space to ensure we have space for a system. If you have no room inside the building for a system; we may recommend you to another company that builds outdoor and rooftop equipment.
What if I have an existing pool room and need to replace/retrofit the system?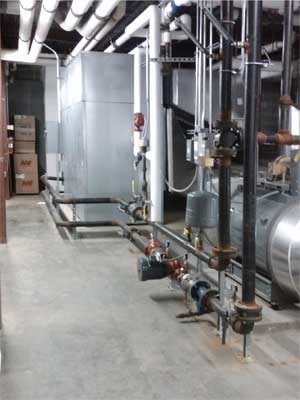 With an existing dehumidification system (if not our older models), we will work with each client to determine what you have in place (model number/brand) and if there are specs available for that unit at that time. We will review what you are heating with, cooling unit and location, ductwork and mechanical space allocated for the existing system. We will review the cooling side to determine what is being used for cooling, if it's R22 or R410A, what the line set sizing is and distance/height on the current condenser and location.
We will request the same information that we do for new construction in the sq.ft. of the pool room, sq.ft. of pool and/or spa, and your ceiling height. We will ask for photos of the room. We will require similar data for new construction and temperatures of water and air within the space. We use our Retrofit Quote Form for these applications. That will provide us with a great deal of information to begin to approach your project properly.
Building loads may need to be performed to ensure the heating and cooling is sized properly. Once all of this information is obtained for existing buildings with and without dehumidification systems, we will provide a proposal for replacement of the existing system. If the old system has been undersized or oversized, we will also provide a quotation for the accurately sized system.
Do all competitor's provide the same equipment?
Yes there are several companies who build pool dehumidification systems. however, no two companies build alike, nor do all companies size their systems the same way. We utilize the ASHRAE 2019 HVAC Applications Manuals, SPS Manuals, ACCA Manuals and other engineering information available in our industry.
Competitors have been typically undersized for these applications in a few ways:
They "lock down" the customers' water temperature at 80° and air at 82° and 60% RH. That helps keep the size of the system and cost down to do so. However, what we have found in over 30 years in this industry is that most customers do not keep these temperatures—they want it warmer. And at the time of an original system design, no one asked the customer what they wanted. This leads to systems that are undersized, cannot keep up and the customer does not understand why. That customer may now be keeping water at 84° to 88° and the air at 75-86°, causing additional evaporation and moisture damage to the structure. This happens too many times in this industry.
Therefore one of the most critical aspects of retrofitting any project or starting on a new project is to ASK the CUSTOMER what temperatures they want to maintain and how they perceive using the pool.
Elderly communities want it warmer—and we find they are also locked into a 80° water/82° air which is too cold for them, so they continually fluctuate temperatures in a pool room. Fluctuating temperatures after system is installed is very problematic for any pool room.
Another area that competitors are remiss in is the number of air turnovers used in these projects. ASHRAE Manuals are "recommended guidelines" only. Therefore when you have, for example, a residential property, the recommended guidelines are 4 to 6 air turnovers per hour (via ductwork). However, some of the residential pool rooms are larger than hotels and other projects. They no longer build the small rooms we were accustomed to back in the 1980's. From hands on experience we've learned that to properly condition these spaces, a better air turnover is required; therefore we use the ASHRAE higher end of the scale for air turnovers. This will be between 6 and 8 and we'll always start with 8 to calculate the CFM for supply air.
How do you differ from the other competitors?
First all of our systems are built in the USA, not Canada as several manufactures are located in Canada. The costs of our systems are lower due to reduction in customs/broker/freight charges when equipment is shipped from Canada. Also when parts are required, our parts are stocked at factory unless on an older unit which may need to be ordered.
We provide a much smaller footprint than others and with vertical, horizontal and counterflow, and with Take Apart Construction (TAC) we can accommodate a variety of projects where space is a concern for new and/or replacement systems.
We ensure that flexibility is provided in all system sizing for water and air temperatures/RH. We do not lock the customer into settings they may not use.
We build a diverse product line; one line offers complete Bronze Glow Coating interior/exterior of units for protection, and the secondary line is built in Stainless Steel with Electro Fin Coated coils.
We build a much simpler machine, with less complicated controls and less complicate design. This helps with contractors who install and service the units once in place.
We build in the R410A Standards—not all manufacturers do.
We build units with 3 or 4 Row FIELD CLEANABLE EVAPORATOR COILS. This is a huge advantage in this industry because competitors who build with 8 row deep coils must have larger blowers to move air thru these coils, and 8 row coils are at best, very difficult to clean. Our design of coils allows for easy cleaning and maintaining and our systems operate at much lower head pressures which equates to longer life spans of compressors and components in these system.
We build up to 10 tons in single phase in our EC line and up to 18 tons in single phase in our Stainless Steel TAC units.
We build the only true GEOTHERMAL pool dehumidifier today and can be used with open or closed loop for those who want to reduce their carbon footprint.
Our standard units also offer a reduced refrigerant management system by utilizing fluid coolers for cooling vs. a refrigeration based dx condenser. This alleviates refrigerant to the outdoor unit, the loop is filled with glycol and water (the equivalent of an Anti-freeze solution), and alleviates all copper plumbing to the outdoor unit. You have no distance or height restrictions with these units. Another advantage to these fluid coolers: if you need to replace a dehumidifier down the road, this unit doesn't necessarily need replacement as it is not refrigerant based.
Some competitors refuse to provide a warranty unless you use their controls and they monitor your system at their factory. We do not require your unit to be monitored by us on line – you get the full warranty no matter what controls you may want to use!
This web site information, content, and guidelines are subject to change without notice.
Please email us if you would like to see a specific question and answer included in our FAQ's. Check back often as DXair updates these FAQ's!
Check out the Design Guideline Bulletins for more information…