Using Vapor Barriers In Your Natatorium
A truly wise engineer once stated that
"If it is a battle with water, water always wins."
Since there is such an on-going battle, it is good to consider the wisdom of military experts. Their fundamental rule is that,
"The best defense is a good offense."
For indoor pools of all kinds, this translates to a basic element of natatorium construction:
vapor barriers
. They are not only essential. They are critical.
DXAir provides building consulting and recommendations for appropriate building materials in constructing indoor pool facilities. Selecting the most effective product available to combat the destructive subtleties of water vapor determines the long term success and integrity of the project.
Foil faced bat insulation is not a vapor barrier. Blown in and blown on insulation are often considered as viable choices in the selection of a product for vapor barrier purposes. However, many of these products are designed strictly as insulation, and may not meet the vapor barrier requirements for natatoriums. They may have a tendency to absorb and harbor water vapor, thus producing an indoor pool environment favorable to mold, mildew, corrosion, and other undesirable elements.
An effective vapor barrier is generally constructed of 8-12 mil. polyethylene sheeting. DXAir recommends a minimum of 8 mil. and as much as a 10-12 mil vapor barrier. Materials used for the purpose of creating a vapor barrier should include a written guarantee from the supplier that their product meets or exceeds the ASHRAE guidelines for indoor pools of 0.10 perm or less rating and that there will be no moisture migration.
The vapor barrier must be properly installed on the warm side of the room, overlapped and sealed just beneath the finished wall and ceiling surface of choice. This creates an enveloping of the entire room, a veritable fortress against the damage that water vapor can cause. Recessed can/top hats are not recommended for pool rooms as these products tend to puncture the vapor barrier which defeats the purpose of the barrier. Surface mount all lighting.
When a natatorium has been completed without the benefit of a vapor barrier, or if construction does not permit the use of the recommended materials, a high quality vapor barrier paint can be used. Please contact sales at DXAir for additional information on all types of vapor barriers. Along with the properly installed negative pressure fan, there will be no moisture migration to other areas of the building, or to the interior structure of your natatorium.
Negative pressure is another offensive weapon in your arsenal against water damage. We'll cover this in a separate article.
Check out our Vapor Barrier Design Guideline Bulletin for more information…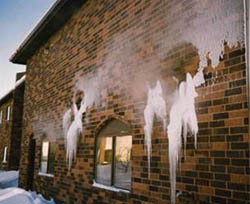 Without a properly implemented vapor barrier, indoor pool rooms are a disaster in the making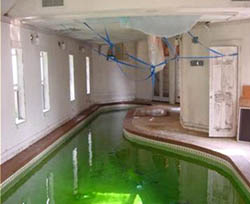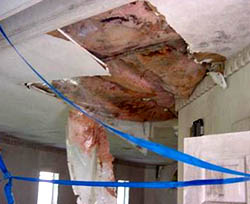 This pool room was devastated by the effects of water vapor causing caved in ceiling areas filled with mold and mildew due to moisture migration being harbored by the insulation